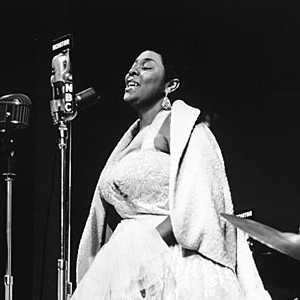 Dinah Washington was born Ruth Lee Jones in Tuscaloosa, Alabama, August 29, 1924. Moving to Chicago in 1928, Ruth and her mother sang and played piano in St. Luke's Baptist Church.
In 1942, while she was singing in clubs, she was invited to join Lionel Hampton's band; she then took up the name of Dinah Washington.
Dinah's popularity eclipsed that of Lionel Hampton's band and she finally went solo. Though she sang jazz, blues, pop, and R&B, she was primarily known as "Queen of the Blues".
Dinah lived large, with her seven marriages, her penchant for clothes, cars, furs, and diets and her famously feisty personality, testy one moment and generous the next.
Dinah Washington died in Detroit at age 39, on December 14, 1963, from an accidental overdose of diet pills combined with alcohol.
For many years after her death, it was nearly impossible to obtain earlier Dinah Washington recordings; record dealers would only carry her later work from 1959 to 1963.